Why Hire a Nursing Home Abuse Lawyer?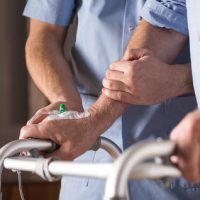 It is devastating to learn, or even just suspect, that your loved one is being abused or neglected in a nursing home. If you discover that abuse is occurring, you can take legal action to recover compensation for your loved one. You are not required to work with a Tampa nursing home abuse lawyer when filing a lawsuit against the facility or its staff members. However, there are many benefits that come with obtaining legal representation. Below, our Tampa nursing home abuse lawyer explains what these are.
Receive Fair Compensation 
If you have never filed a lawsuit before, particularly in regards to nursing home abuse, you may not know what your loved one is entitled to. For example, you may think that you may be mostly concerned with recovering your loved one's medical expenses. However, there is likely a lot more compensation your family member is entitled to, such as pain and suffering. If the actions of the staff member or facility were particularly egregious, as they often are, you may be able to obtain punitive damages, as well.
If you accept a settlement from the insurance company, you will be asked to sign a release. This release prevents you from going back to obtain more compensation, even if the settlement is not enough. A lawyer will always make sure you obtain the full and fair damages you deserve.
Level the Playing Field 
You can guarantee that the nursing home or staff member you are suing will have legal representation. It is difficult to fight back against a team of lawyers when you have no knowledge of the state's statutes or case law. A lawyer will bring this knowledge to the table from the very beginning so you have the best chance of winning your case.
Help During a Difficult Time 
While you are grieving with your loved one about the injuries and other losses they sustained, it is not the time to be filing papers with the court, researching the law, drafting demand letters, or negotiating with the insurance company. These are all very difficult tasks that need to be done properly and many people have no knowledge of how to do it. A lawyer will have the necessary experience to handle all legal aspects of your case. This allows you to spend the time you need with your recovering loved one so you can all eventually put it behind you and move forward in life.
Our Nursing Home Abuse Attorney in Tampa Can Help Make Things Right 
No one should have to watch their loved one suffer, particularly when it is at the hands of another person. At Kohn Law, our Tampa nursing home abuse attorney understands this and is dedicated to helping families make things right. We can put our knowledge and expertise to work for you, too. Call or text us now at 813-428-8504 or chat with us online to request a free review of your case with our experienced attorney and to learn more about how we can help your family.
Source:
leg.state.fl.us/statutes/index.cfm?App_mode=Display_Statute&URL=0400-0499/0400/0400.html