Study Finds Fear of Retaliation Reason Nursing Home Residents Do Not Report Abuse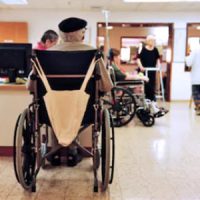 It is no secret that nursing home abuse goes largely unreported. Some reasons for this are that nursing home residents feel ashamed or embarrassed, or that they do not have the capacity to understand that abuse is even happening. According to a new study, the fear of retaliation is one of the main reasons abuse is not reported. Below, our Tampa nursing home abuse attorney explains further.
The Study 
The Long Term Care Community Coalition conducted a study that analyzed 100 complaints made by nursing home residents across the country. After the complaints were examined, a report titled 'They Make You Pay' was published by Eilon Caspi, the lead researcher in the study. According to the report, the main reason abuse and neglect is unreported is because residents fear retaliation. Put simply, residents are fearful that nursing home staff members will further hurt or neglect them if they bring their concerns to light.
Nursing home residents are in a very precarious position. They completely rely on other people for nearly every aspect of their care, including their medical treatments, hygienic needs, and nutritional needs. When they are not treated properly, complaining about inadequate care could result in no care at all. Furthermore, nursing home residents do not usually have the luxury of simply leaving the facility to escape further harm.
How to Solve the Problem 
The report acknowledges that the majority of nursing home staff members are good and hard-working people. It also acknowledges the fact that most nursing home staff members are underpaid, undervalued, and overworked. Still, the only way to solve the problem is through those same staff members.
All staff members in nursing homes should be trained on the harm of retributive statements. For example, a staff member may be trying to get a resident to eat but the resident is refusing. Frustrated, the staff member may say, "You have to eat or there will be no activities for you today." Even if the staff member does not mean what they say, it can cause great fear and insecurity in the elderly. All staff members should be advised of the harm these statements do, so seniors feel more comfortable coming forward with abuse and neglect.
What You Can Do 
Anyone who admits their loved one into a nursing home has some fears of abuse and neglect. Until residents start feeling more comfortable reporting abuse and neglect, it is important to remain very vigilant about the care your family member is receiving. Visit them often and when you do, look for signs of abuse such as unexplained injuries or if your loved one has suddenly become withdrawn. If you suspect abuse, discuss it with your loved one before contacting a lawyer who can advise on the next steps to take.
Call Our Nursing Home Abuse Attorney in Tampa for a Free Consultation 
If you suspect your loved one is a victim of abuse or neglect, you need legal help. At Kohn Law, our Tampa nursing home abuse attorney can provide it so you can make things right for your family and help them obtain any compensation they deserve. Call or text us now at 813-428-8504 or chat with us online to book a free consultation.
Sources:
leg.state.fl.us/statutes/index.cfm?App_mode=Display_Statute&URL=0400-0499/0400/0400.html
usatoday.com/story/news/health/2023/06/16/nursing-home-residents-fear-retaliation/70317690007