What Is Confinement And Isolation In Nursing Homes?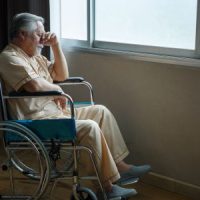 When you admit your loved one into a nursing home, you trust that the caregivers there will act professionally and treat your family member well. You should also feel as though you can visit and communicate with your loved one without fearing that they will experience retaliation as a result. Unfortunately, nursing home abuse is far more common than many people want to believe. Confinement and isolation are just two types of abuse that occur in nursing homes. Below, our Tampa nursing home abuse attorney explains more about these types of abuse.
What is Confinement in Nursing Homes?
Confinement is defined as isolating a nursing home resident or forcing them to remain in one location. There is generally never a reason to physically confine a senior, unless it is for supervised medical purposes.
For example, if a resident in a nursing home contracted COVID-19, they may have to remain in their own room or use another form of quarantine until they are no longer experiencing symptoms. This practice is not abusive but instead, is necessary to keep the other residents safe. On the other hand, if a nursing home staff member took a resident's walker or wheelchair just so that they could not leave their room, that is an example of confinement that rises to the level of nursing home abuse.
What is Isolation in Nursing Homes?
Developing relationships and interacting socially with other residents is very important to the overall health of elders. Nursing homes have a legal duty to provide residents with social activities and the opportunity to connect with other residents. When nursing homes do not provide these activities, or staff members isolate certain residents from these activities, it can cause residents significant harm. Isolation occurs when a resident is not given the same opportunity to interact with other elders in the facility.
Signs of Isolation and Confinement in Nursing Homes
Nursing home residents do not always have the capability to ask for help or report it when they are isolated or confined in a facility. Due to this, it is even more important that family members know how to detect when isolation and confinement may be occurring. The most common signs to look for are as follows:
Depression, anger, or helplessness
Withdrawal from social interactions
Fear
A reluctance to speak freely
Secretive behavior
It is also important to observe how a resident behaves around others. Are they allowed to interact with friends and family members? Or do they seem hesitant to speak or be in the presence of a staff member? Do they have the opportunity to speak to a clergy member or medical professional in private? If the answer to any of these questions is "no," it could be a sign of abuse.
Contact Our Nursing Home Abuse Lawyer in Tampa Today
If you have spotted signs of isolation and confinement in your loved one, it is important to speak to our Tampa nursing home abuse lawyer at Kohn Law today. Our seasoned attorney is dedicated to helping residents and their families and will put their experience to work for you, too. Call us now at 813-428-8504 or contact us online to schedule a free consultation.
Source:
leg.state.fl.us/statutes/index.cfm?App_mode=Display_Statute&URL=0400-0499/0400/0400.html