The Difference Between Nursing Home Neglect and an Inevitable Decline in Health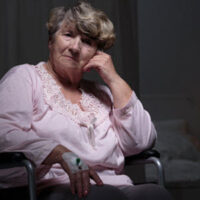 Individuals placed in the care of a nursing home are there for a reason—they are unable to care for themselves and require around the clock medical attention due to a medical condition. Most elderly people in nursing homes are extremely fragile; dementia, stroke, heart disease, diabetes, and fractured hips and other musculoskeletal injuries are the most common medical conditions admissions within nursing homes, according to research. Many of these conditions are only somewhat treatable, while most are incurable, especially due to the advanced age of the average nursing home resident. As such, most people admitted to nursing homes are on a downward trend when it comes to health and well-being. Recovery may not be an option. As such, it can prove very difficult for family members to spot the difference between neglect, and the inevitable health decline of a 92-year-old loved one suffering from dementia, heart disease, obesity, and stroke, for example. But, there is a difference.
Signs of Neglect and/or a Natural Decline in Health
Not all strokes can be prevented. Not all falls can be prevented. Not all cognitive or emotional health symptoms can be alleviated. Below are examples of symptoms that could either be caused by neglect or by a natural, unpreventable decline in health. If you notice any of the following, you should continue to be on the lookout for abuse and neglect, and speaking to an attorney never hurts.
Unexplained rapid weight loss or weight gain;
Previous illnesses and health conditions are worsening (blood pressure is raised, heart rate is too low, vision and hearing becomes worse, dementia worsens, risk of stroke increases, etc.);
New medical conditions arise;
Fractured bones or other injuries from a fall;
Changes in mood (withdrawn, angry, scared, upset, depressed, anxious, confused, etc.);
Bed sores; and
More.
Signs of Neglect or Abuse
Below are signs that point even more towards evidence of neglect or abuse than those above:
Fear of caretakers;
Errors with medication (your loved one received too much or too little of the medication, or they were given the wrong type of medicine);
Dirty clothing;
Bad smell and disheveled appearance;
Dirty or old bedding;
Frequent fall injuries;
Constantly getting injured, either minor or severe;
Bruising that looks like finger or pinch marks;
Bruising, lacerations, or other injuries to both sides of the body;
Injuries to the wrists and ankles where restraints may have been used; and
More.
Our Tampa Nursing Home Neglect Lawyer are Here to Help
When it comes to nursing home abuse and neglect, you should not assume that you are imagining things. A study found that 85 percent of nursing homes have at least one report of abuse or neglect, according to the Center for Justice and Democracy. A Tampa nursing home abuse attorney can help determine if neglect or abuse is occurring in your loved one's residence. Regardless of the age or health condition of your loved one, they deserve the utmost in care and treatment, and if they are not receiving it, the nursing home deserves to be sued for your loved one's damages. Call Kohn Law today at 813-428-8504 to schedule a free consultation.
Resources:
centerjd.org/content/fact-sheet-epidemic-nursing-home-abuse-and-neglect
bmcgeriatr.biomedcentral.com/articles/10.1186/1471-2318-10-46
https://www.kohnlawcares.com/bruising-may-be-a-sign-of-nursing-home-abuse/