Living in Fear of Nursing Home Retaliation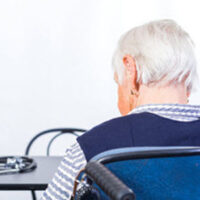 Victims of nursing home abuse and/or nursing home neglect are usually afraid to speak up when it comes to reporting the wrongdoing to their family members, the authorities, or investigators. Why is this? The unfortunate reality of many older nursing homes and assisted living residents is that they are unable to physically protect themselves, or they fear other forms of retaliation, such as being unlawfully discharged, leaving them few options.
Examples of Nursing Home Abuse and Neglect Retaliation
Discharging the patient;
Overcharging the patient for services and items;
Limiting the patient's food;
Physical abuse such as being hit, pinched, or pushed;
Emotional abuse such as being yelled at;
Being "punished," such as being locked in their room or having privileges taken away;
Sexual abuse, including groping or sexual intercourse; and
More.
Whether a patient or family member simply reports wrongdoing to the management, or files a lawsuit or complaint with the authorities, any type of retaliation is unlawful. A nursing home cannot lawfully discharge a patient because the patient or the family member spoke up.
Retaliation for Issues Not Related to Nursing Home Abuse or Neglect
Residents may also be retaliated against, such as being discharged, for bringing up complaints with the nursing home relating to:
Improper COVID-19 safety precautions;
Billing questions or complaints;
Quality of service;
Quality of quantity of food;
Issues with certain nurses and staff members; and
More.
It is important to remember that a nursing home facility is an institution with an obligation to serve the residents, and a resident's complaints do not warrant unlawful discharge or other forms of retaliation.
Unlawful Discharge
Tens of thousands of residents are unlawfully discharged from nursing homes every year. There are strict requirements to meet before a nursing home can lawfully discharge a patient. According to AARP, at least one of the following requirements must be met in order for a nursing home to lawfully discharge a patient against their will:
The patient's clinical or behavioral status endangers the safety of others;
The patient's care is not being paid for;
The facility cannot meet the demands of the resident's welfare (discharge to another facility is needed);
The patient no longer needs services;
The patient's presence endangers the health of others; and
The nursing home is shutting down.
Why Doesn't Abuse Get Reported?
Nursing home residents are unlikely to report abuse and neglect that has been directed at themselves, as well as other victimized residents. In a study published in the National Institute of Health, 44 percent of nursing home residents had seen abuse occur to another patient and did not report it. The predominant reason was fear of retaliation (50 percent), while 38 percent of residents didn't report the abuse because they believed it "wouldn't do any good."
Call A Nursing Home Retaliation Lawyer
If your loved one is being abused or neglected, and they are living a nightmare, fearful of being retaliated against, it is up to you to stop further abuse from occurring. Call a Tampa nursing home abuse attorney at Kohn Law today at 813-428-8504 to schedule a free consultation.
Resources:
aarp.org/caregiving/financial-legal/info-2018/nursing-home-evictions-fd.html#:~:text=The%20federal%20government%20is%20launching,homes%20from%20discharging%20residents%20illegally.&text=A%20nursing%20home%20can%20force,of%20others%20at%20the%20facility.
ncbi.nlm.nih.gov/books/NBK98786/
https://www.kohnlawcares.com/getting-old-is-inevitable-but-elder-abuse-is-not/