Ways to Avoid a Car Crash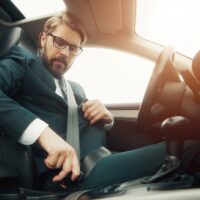 Every year, over three million Americans are injured in car crashes. Tens of thousands of people across the country are killed, including more than 1,000 fatalities in New York alone. Most of these accidents are preventable. If everyone at every step from vehicle manufacture to drivers on the road followed proper safety protocols, there'd be few, if any, car crashes. For tips on how you can keep yourself safe while on the road, read on. Call a seasoned New York car accident lawyer for help if you've been hurt in an accident.
Take care of your phone calls, eating, and other business off-road. Distracted driving is one of the leading causes of car crashes, rivaling even drunk driving. Every state bans texting while driving, and most ban calls using a handheld device, but even hands-free communication can be dangerously distracting. The same goes for eating, grooming, or other activities while driving. Plan to do whatever you need to do before you get on the road. If you need to take care of something urgently while on a trip, pull over to a safe place and handle it off-road.
Keep your distance. Drivers may have to stop or swerve unexpectedly to avoid sudden road hazards, whether they encounter a stopped vehicle, a pedestrian running out into the road, or a piece of equipment that fell from a truck. If you are driving right behind the car in front of you, especially at high speeds, you don't have time to stop or swerve. If you're on the freeway, avoid tailgating and give the vehicle in front of you a reasonable amount of space. You are doing yourself a favor as much as helping them.
Adjust for dangerous conditions. Posted speed limits are based on ideal driving conditions. If there's heavy fog, rain, snow, ice, or wind, you need to adjust. If visibility is limited, slow down and make sure your lights are on and working. If the roads are wet or icy, give the car ahead of you extra space to account for brake effectiveness. Take extra care to watch out for other vehicles, bike riders, and pedestrians. Many accidents happen during inclement weather because people fail to adjust their driving to the conditions at hand.
Keep your head on a swivel. Unfortunately, it's not enough for you to follow all the rules of the road. When you're driving, your biggest risk factor is other drivers. It's important to remain constantly vigilant of other cars, trucks, motorcycles, bicycles, and pedestrians. Know where your vehicle is located relative to other vehicles, and be prepared to adjust to sudden stops, swerves, signal-less lane switches, and other erratic behavior. Keep an eye out for bike riders and other hard-to-spot people and objects. The more vigilant you are, the less likely you'll wind up in a crash, even if another driver does something negligent.
Avoid drowsy driving. Drowsiness can impair a driver's abilities just as much as intoxication. If you have not slept for over 24 hours, avoid driving if possible. If you are operating on limited sleep, limit your driving; if it's an option, trade with other drivers. If you're on a long road trip, consider pulling over to take a short nap. Drinking cold water and eating fruit can help you stay alert as well.
Conduct regular vehicle maintenance. Safety starts before you even get behind the wheel. Make sure to get your oil changed, your brakes checked, your tires rotated, and perform other regular maintenance at appropriately regular intervals. If your brakes fail or your engine cuts out at the wrong time, you could wind up in a serious crash.
Wear a seatbelt. Seatbelts might not prevent a crash from occurring, but they can save your life should an accident occur. Get in the habit of putting on your seatbelt whenever you're in a car, whether as a driver or as a passenger. Even a quick trip to the store down the street can wind up in a serious car crash, and it's better to be as safe as possible should the unfortunate occur.
Trusted Advice and Representation After a Bronx Car Accident
If you or someone you love has been hurt by a negligent driver in New York, find out if you're entitled to money damages for your injuries by contacting the seasoned and trial-ready New York car crash lawyers at the Bronx offices of the Kohn Law Firm for a free consultation at 718-409-1200.