Uncovering Financial Abuse in Nursing Homes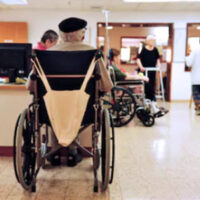 From physical abuse to intimidation, taunts, and sexual assault, elderly residents of nursing homes, assisted living, and independent living facilities sometimes face an afront on every level. But it does not stop there. Financial abuse is one of the most common types of abuse in nursing homes, and often goes undetected until the resident has had all of their assets cleaned out. Just one out of 44 cases of elder financial abuse is ever reported, according to CNBC News.
The State of Financial Abuse of Seniors in the U.S.
Various studies estimate that scammers steal between $3 billion and $37 billion a year from U.S. seniors. Much of this fraud is committed by telemarketers, online scams, and other types of fraud committed by people that the victim does not know. Even more money is stolen by the family members of seniors, who are often caretakers. Even seniors in nursing homes or living facilities are subjected to fraud from their family members. From children who have power of attorney to more distant relatives, seniors are the target of financial abuse because they generally make the easiest targets. With this in mind, staff members take advantage too. Fraud and simple theft can be committed by virtually anyone who has access to a resident in a nursing home.
How Does Nursing Home Financial Abuse Happen?
According to U.S. Consumer Financial Protection Bureau and CNBC, the average senior over the age of 17 lost b $41,800 between the years of 2013 and 2017 due to elder financial exploitation. How does this happen to seniors in nursing homes or living facilities? Below is an incomplete list of how nursing home staff and management take advantage:
Overcharging for food, toiletries, and other necessities, or services;
Taking money or possessions from the resident's room;
Using the resident's credit or debit card;
Forging the resident's signature;
Tricking or coercing the resident into changing their will;
Signs that Your Elderly Loved One is a Victim of Financial Abuse
According to Forbes and The National Center on Elderly Abuse, the following are common signs that your elderly loved one is the victim of financial abuse in a nursing home:
The resident is allowing a "new friend" to make decisions on their behalf;
Unexplained or unexpected changes in the senior's bank account or banking practices;
Possessions, cash, checks, and valuables seemingly vanish from the senior's apartment;
Changes to a will or financial documents;
The senior suddenly has trouble with paying for things;
The senior has a new, unknown, or untrusted power of attorney or guardian;
Unauthorized bank account withdrawals; and
Unexpected bank account transfers.
Call a Tampa Nursing Home Abuse Attorney Now
There are various ways to protect against and combat financial abuse of elders. Creating a guardianship or financial power of attorney can prevent fraud and financial theft in the first place. If abuse has already happened, you need to act fast by working with an attorney to remedy the harm that has been caused. A Tampa nursing home abuse attorney here at Kohn Law can help you get started today. Call us at 813-428-8504 to schedule a free consultation.
Resources:
forbes.com/sites/catherineschnaubelt/2018/07/05/financial-elder-abuse-the-dark-side-of-aging-and-finances/#2255377911f7
cnbc.com/2019/10/13/elder-financial-abuse-is-a-multibillion-dollar-problem.html
https://www.kohnlawcares.com/unlawful-restraint-in-nursing-homes/