Two Important Questions To Ask Before Deciding On A Nursing Home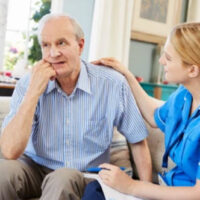 It is never easy to move a loved one into a nursing home and it is normal to fear nursing home abuse and neglect, which is unfortunately all too common. While you are visiting and researching nursing homes, you will have many questions and it is important to have these answered. However, there are two very important questions you should ask that can help ensure your loved one does not become a victim of abuse or neglect. These two questions are outlined below.
What is the Ratio of Staff to Residents?
Nursing home abuse has many different causes, but by far the most common is a lack of staffing. Nursing homes are notoriously understaffed, a problem the pandemic shone a light on.
When nursing homes do not have the appropriate amount of staff, it is much easier for things to go overlooked and for residents to become a victim of neglect. Medications may not be administered at the right time, or may not be recorded properly, resulting in an overmedicated resident. Nursing homes that are understaffed are also more likely to keep obstructions in the hallway that could cause a slip and fall, or leave a resident in bed for too long, resulting in bed sores.
Understaffing is never an excuse for nursing home abuse to occur, even though it is extremely common. Asking what the ratio is of staff to residents will help you determine if there are enough staff members to properly care for your loved one.
What is the Employee Turnover?
It is not only important to ensure that the nursing home has adequate levels of staff members, but also that the employees working there are happy. When the staff members in a nursing home enjoy working there and have been there for a long time, it generally means that your loved one will have a chance to develop a relationship with them. Forming a relationship with the staff will not guarantee that nursing home abuse will not occur, but it can greatly help prevent it.
Nursing home staff members that have been employed at the facility for a long time are also more likely to provide better care. They are more likely to prioritize the needs of their residents, and it is a sign that they truly value their job and what they do. Nursing homes with a low turnover may also indicate that the employees have provided quality care for a long period of time, meaning your loved one will receive the support they need.
Our Nursing Home Abuse Lawyer in Tampa Can Help with Your Case
The above questions can help ensure you choose a quality home for your loved one, but they are not always enough to entirely prevent abuse from occurring. If your loved one has been the victim of abuse or neglect, our Tampa nursing home abuse lawyer at Kohn Law can advise on your case. Call us today at 813-428-8504 or fill out our online form to schedule a free consultation and to obtain the sound legal advice you need.