Signs Of Emotional Abuse In Nursing Homes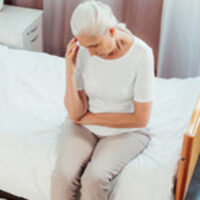 Nursing home abuse can take many forms and it does not always leave physical marks. There is a discrepancy in power between nursing home staff members and the residents they care for, placing elders at risk for emotional abuse. Due to the fact that emotional abuse does not leave the same signs as physical or sexual abuse, loved ones may think there is nothing they can do to spot it. However, emotional abuse does leave some signs. It is important to know what those are so you can identify the abuse, and stop it from happening.
What is Emotional Abuse?
According to the Centers for Disease Control and Prevention (CDC), emotional abuse includes verbal and non-verbal behavior that inflicts mental pain, anguish, or distress in an older adult. Emotional abuse can take many forms, but the most common are as follows:
Blaming
Scapegoating
Terrorizing
Intimidation
Isolation
Using demeaning language or behavior
Humiliation
Ridicule
Sadly, nursing home residents do not always realize that emotional abuse is taking place. For example, a caregiver may manipulate a resident into mistrusting their family, without the senior realizing they are the victim of emotional abuse.
Signs of Emotional Abuse
Loved ones often look for physical signs of abuse when they visit a loved one in a nursing facility, such as bedsores or marks around their wrists. While it can be more difficult to spot when emotional abuse is occurring, it is not impossible. The National Institute on Aging (NIA), lists the following as signs of emotional abuse:
Withdrawn personality
Low self-esteem
Little to no eye contact
Avoidance behavior
Self-injury
Sudden depression
Difficulty sleeping
Changes in eating patterns
Mood swings
It is important to speak to your loved one any time you spot these signs of emotional abuse. If your relative does not feel comfortable or becomes agitated discussing the matter in front of certain staff members, it is a further sign that they are a victim of emotional abuse.
The Long-Term Effects of Emotional Abuse
While the physical marks of abuse will heal over time, emotional abuse can have much longer term effects. For example, when emotional abuse occurs over a significant period of time and the elder develops low self-esteem, it is sometimes years before they start feeling confident again. In the most tragic of cases, nursing home residents are never the same again. After discovering nursing home abuse, it is important to file a claim to recover immediate damages, such as medical expenses, as well as any losses related to the long-term effects.
Call Our Nursing Home Abuse Lawyer in Tampa Today
If your loved one has been the victim of emotional abuse, your family does not have to face it alone. At Kohn Law, our Tampa nursing home abuse lawyer will discuss your case with you free of charge  and advise on the full compensation you deserve. Call us today at 813-428-8504 or fill out our online form to schedule a consultation with our skilled attorney and to learn more about how we can help.
Resource:
cdc.gov/violenceprevention/elderabuse/fastfact.html