How Long Will A Nursing Home Abuse Claim Take?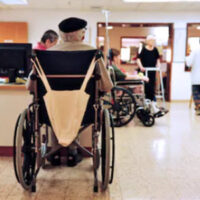 If you or a loved one has been hurt due to nursing home abuse or neglect, you can file a claim to recover damages for medical bills, pain and suffering, and more. Many people are hesitant to file a nursing home abuse claim because they think it will drag on for several years. While that may be true, the length of the process should never be enough to stop you from filing a claim and recovering the damages you deserve. No one can say with any certainty how long your claim will take, but there are some guidelines you can follow.
The Average Timeline of a Nursing Home Abuse Claim
Nursing homes do not generally admit they were liable in a nursing home abuse claim. They will try very hard to fight it and deny that they were at fault so they are not responsible for paying the full damages you deserve. As such, it is not uncommon for claims involving nursing home abuse to take years to resolve, especially now with the backlog in the court system due to COVID.  At Kohn Law we make every reasonable attempt to resolve a claim during the presuit process if at all possible.  However, sometimes settlement is not possible at this early stage and we must take the next legal step of prosecuting the claim in either arbitration or Circuit Civil court.  Often times, a nursing home will not discuss settlement until the case is set for trial or arbitration.
Factors that Affect How Long a Case Will Take
There are many factors that will affect how long a specific case will take. These include:
The backlog of the court, which will determine when the trial date is set
The amount of depositions needed for a case and the availability of the witnesses
The discovery process and how collaborative the two parties are during this phase of the trial
When issues arise that requires a judge to resolve them but it is difficult to schedule a date for the hearing
Until nursing homes know what type of evidence you are going to use against them, and the testimony of the witnesses, they are typically reluctant to offer any type of settlement at all.
How to Expedite a Claim
It may seem as though there is nothing you can do to expedite the claims process after a loved one has suffered from nursing home abuse. Fortunately, that is not true. First and foremost, it is important that you speak to a lawyer right away. Too many people learn that the statute of limitations, or time limit, on a claim is two years and so, they wait to speak to a lawyer. The sooner your lawyer can file your claim though, the sooner it will get resolved.
A lawyer will also fight hard to get an early trial date, which is something that is often very difficult for individuals to do on their own. Even if your lawyer does not secure a trial date for several months, do not fear. Before trial, your lawyer will go through the discovery process, collect important documentation from doctors and the nursing home, and depose witnesses. All of that does take time, so getting a trial date one month after filing the complaint really is not practical.
Let Our Florida Nursing Home Abuse Lawyer Help with Your Case
If your loved one has been injured due to nursing home abuse, do not hesitate to call our Tampa nursing home abuse lawyer at Kohn Law. Attorney Kohn will guide you through the process of filing your claim, and get your case resolved as quickly as possible. Call us today at 813-428-8504 or fill out our online form to schedule a consultation.
Resource:
leg.state.fl.us/Statutes/index.cfm?App_mode=Display_Statute&URL=0000-0099/0095/Sections/0095.11.html